Real leather does not peel or flake. While it may just be a damaged finish or after-market paint (click here for an example), more often, peeling is a sign of a delaminating polyurethane (PU) coating on bicast, bonded or faux leather. These materials are not to be confused with vinyl (PVC). It's not worth repairing peeling PU materials, because no long-lasting result can be achieved.
If the original coating didn't stick to the material, how can anything else? The video below demonstrates the repair process, comparing our leather filler to a rubberized coating, and the disappointing results. You're better off replacing the item with real leather, perhaps second-hand. Learn how to spot the good stuff at the end of the video or this article.
Video contents:
0:28 – Prep peeling
0:57 – Applying Soft Filler vinyl and leather repair compound
3:47 – Ugh, more peeling
3:58 – Applying Flex Seal rubberized coating
5:13 – Comparing Soft Filler and Flex Seal
5:45 – Recoloring
6:22 – The final result after refinishing
6:40 – The verdict after a month of use
7:19 – Our recommendation
Some folks forego the filler and stain the exposed fabric with our finishes or a fabric paint. This improves appearance, but you will not have a smooth, lustrous leather-like surface that repels water.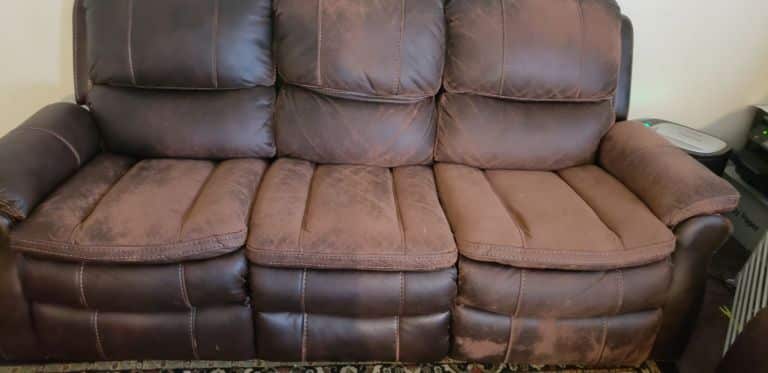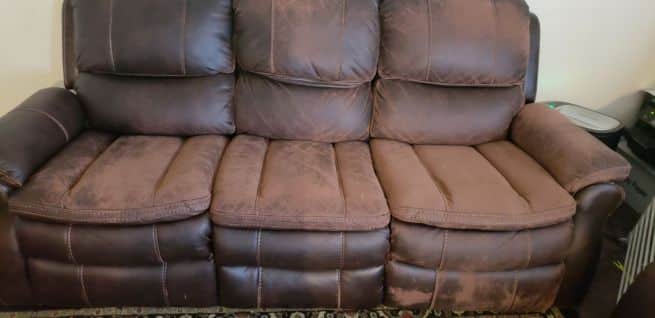 Some of the newer faux leathers don't peel. Instead their finish wears more naturally and exposes a microfiber or fake suede. Again, applying filler is cost prohibitive and problematic for the reasons discussed in the video. Your best bet is to stain the fabric and coat it with a clear wax to create a more leather-like surface.
What is bicast, bonded or faux leather?
They're all the equivalent of cheap particle board:
bicast leather is split hide (lower, weaker half of a hide / skin) with a urethane or polyurethane coating;
bonded leather is a composite fabric made of ground scrap leather coated with a polyurethane 'skin';
faux leather is polyester fabric coated with polyurethane.
While bicast leather can last some years before peeling occurs, bonded and faux leather are known to delaminate in as little as 18 months. The manufacturers casually call this "hydrolysis-related failure". Even the best polyurethane resins for commercial use are only expected to last 7 years. They're touted as being more eco-groovy to produce than vinyl (PVC), but their disposability is cost prohibitive and wasteful. 
Why are consumers misled about faux leather? 
There is no regulation of the term "leather" in the United States and Canada, contrary to places like New Zealand where it is illegal to mislead consumers. Most salespeople at furniture retailers and RV dealers may not know they're peddling a lousy synthetic. Ignorance and low price point allow it to prevail. The irony is that the United States military spends billions each year defending petroleum interests, while some of the world's oil reserves are being converted into shoddy furniture that degrade before our boys can return home to enjoy it! Congress, here's an opportunity to enact a decent law for a change!
Our Solution
We suggest shopping Craigslist, Facebook Marketplace or estate sales for used leather furniture. High quality pieces can often be found for less than a couple hundred bucks, if not for free.
The best quality leather will be absorbent, with a natural marbling, and may show water or oil stains. Removable cushions are always a sign of good quality too. Don't be afraid of cracks, holes, or tears. They all can be repaired and restored with Rub 'n Restore® products. Real leather will last decades, and your bonded leather blues will be only a memory!