Real leather does not peel nor flake. The only exception is if a leather's urethane finish has been damaged. In this case, you'll notice the grain and texture remain intact, and it's easily corrected. See here.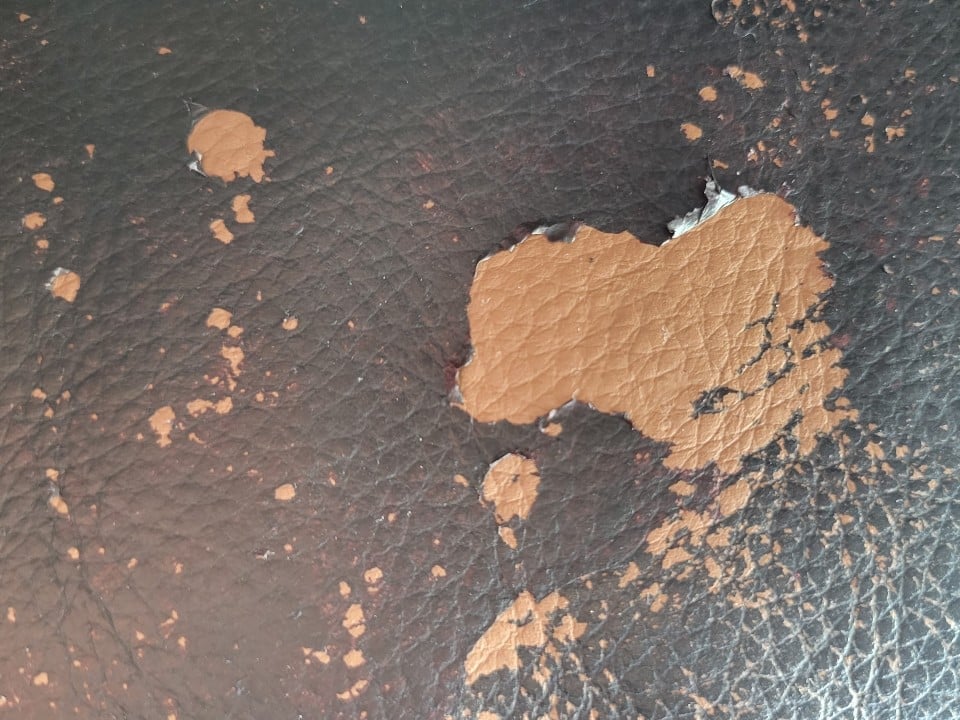 More often, peeling is a sign of fake leather whose polyurethane (PU) coating has begun to delaminate from the underlying fabric.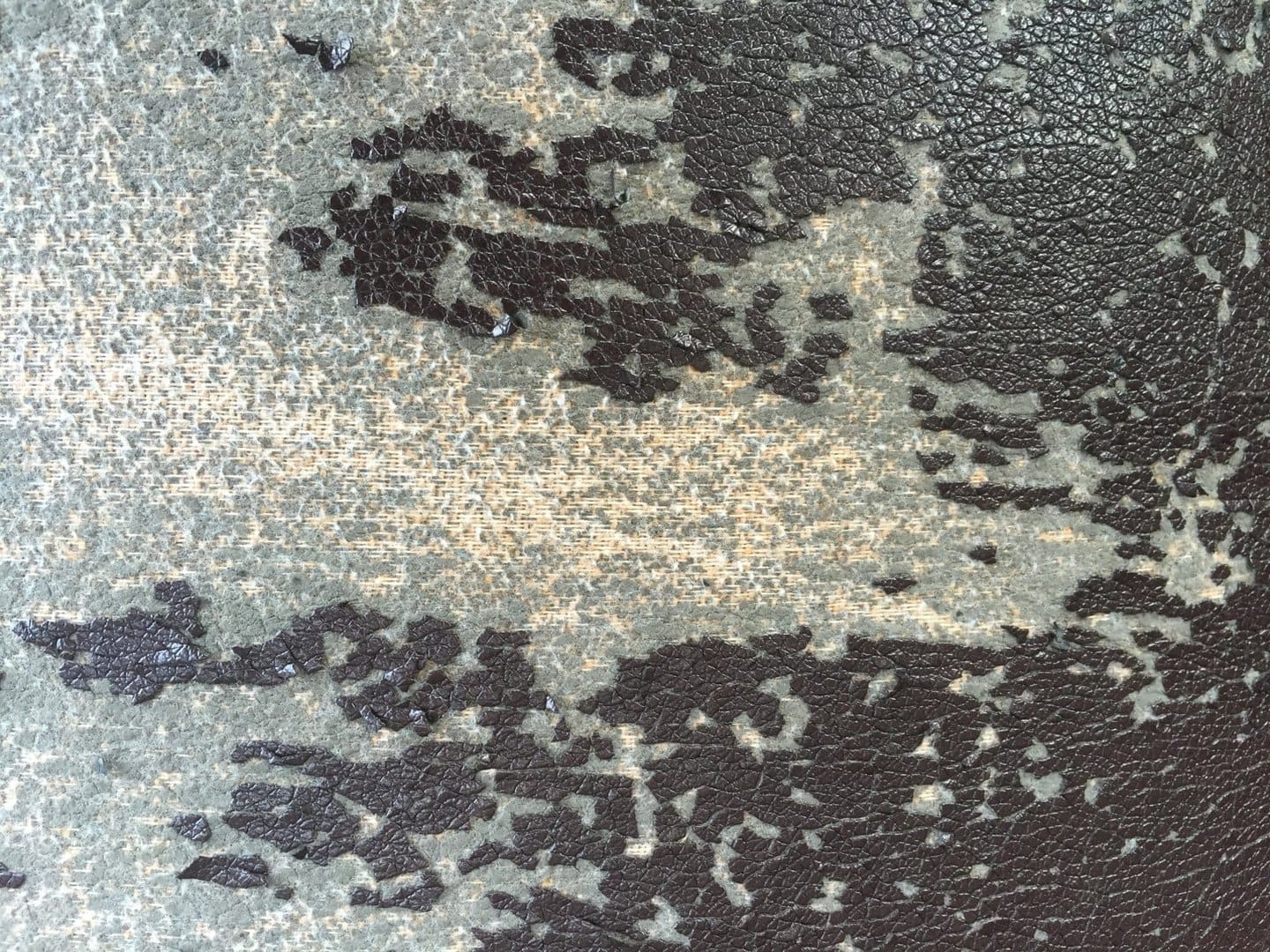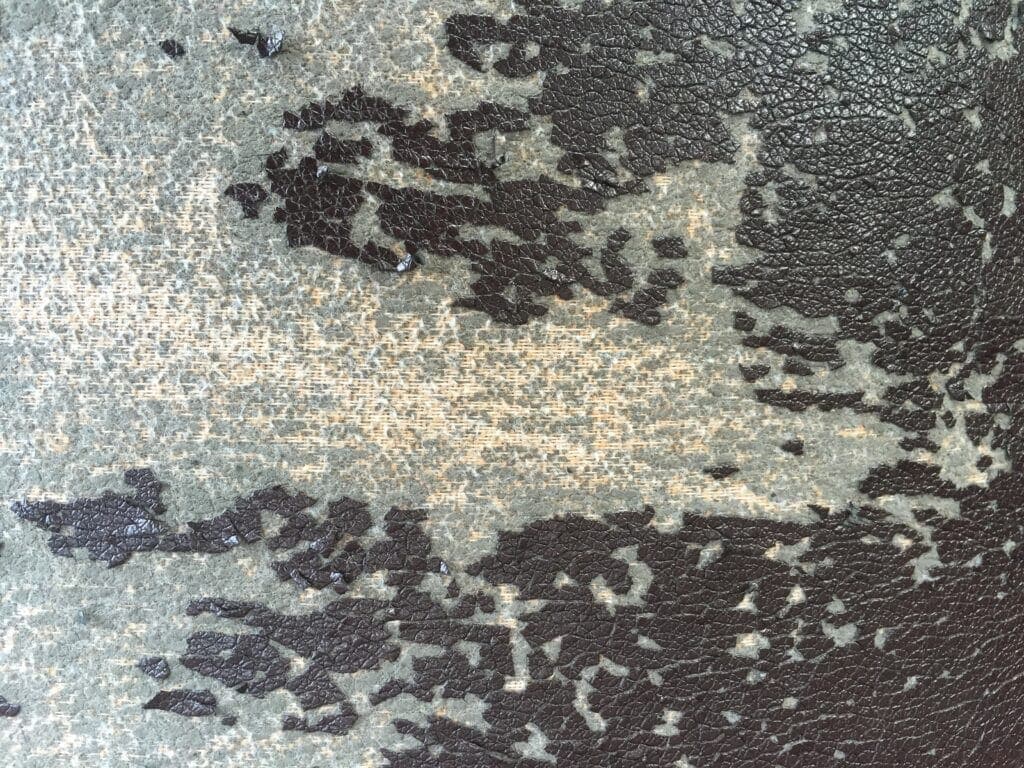 There's nothing that can be done to prevent or protect it, and repairs seldom last. Changing color is definitely not a consideration. How you fix it, why it won't hold up, and affordable options are below. But first a little background.
What are bonded and faux leather?
Bonded leather (also called blended or reconstituted leather) is a composite material made of 10-20% ground scrap leather coated with a polyurethane 'skin'. DuraBlend® and EnviroBlend® are US trademarked names for bonded leather.
Faux (the French word for 'fake') and vegan leather are rayon or polyester fabric coated with polyurethane 'skin'. They are 100% synthetic. Ultraleather® is a trademarked brand of faux leather.
These materials are the equivalent of cheap particle board and are not to be confused with better quality vinyl (PVC), which is widely used in boat, auto, and furniture upholstery.
Vinyl is very toxic to produce, however. Polyurethane-coated artificial leathers were developed in response.
Unfortunately, these polyurethane coatings often develop hairline cracks and delaminate in as little as 18 months — just as the warranty has expired. This is known as 'hydrolysis-related failure' by the industry and is specifically excluded from many warranty policies.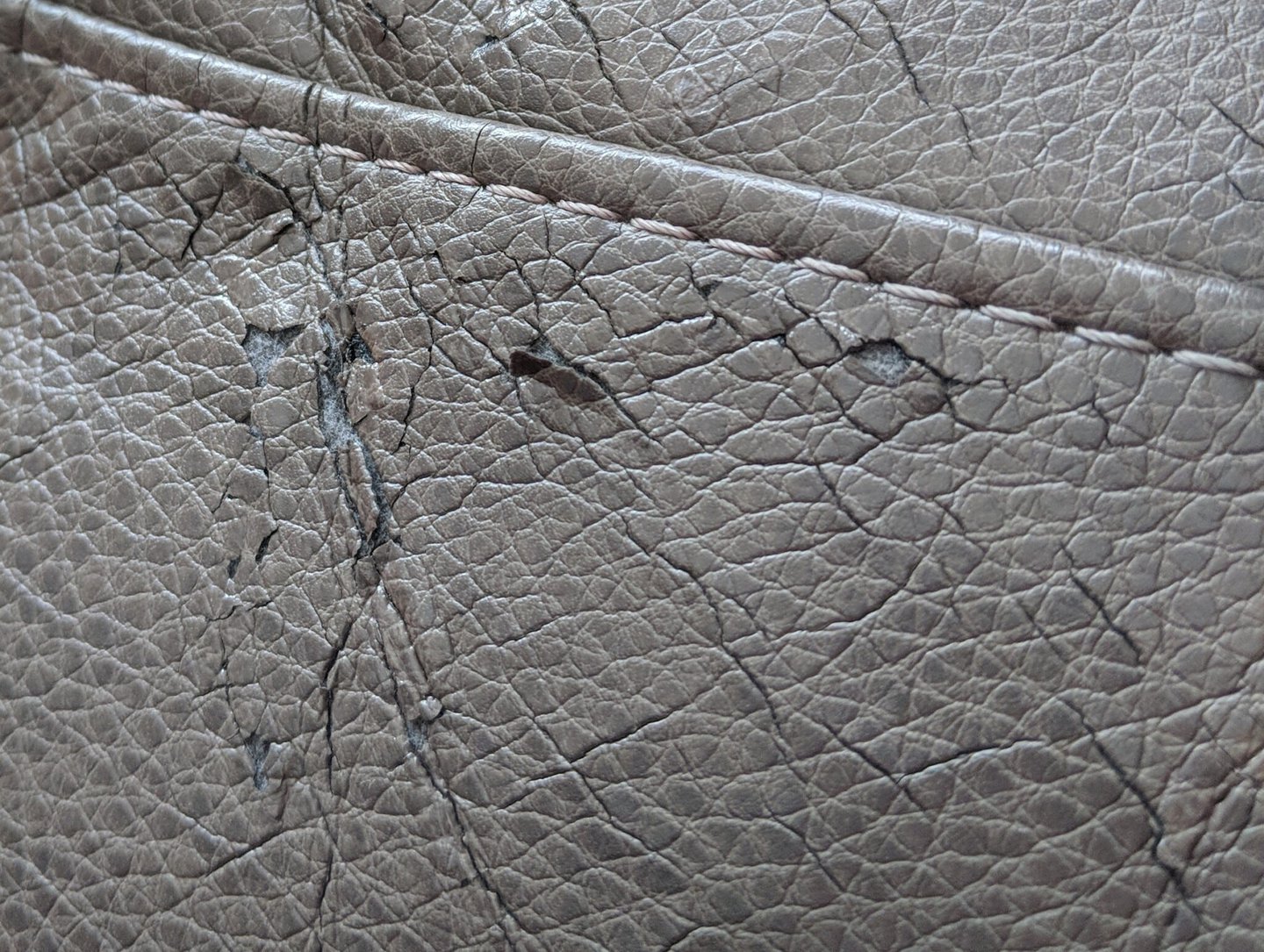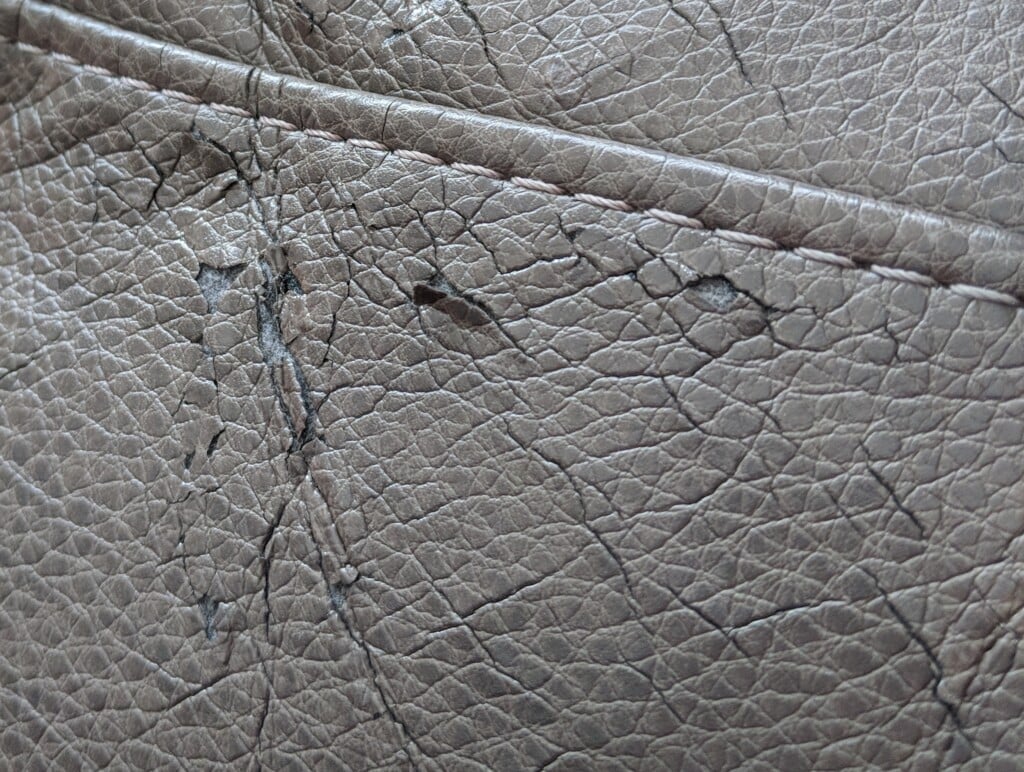 The industry uses ISO 1419 Tropical Test Method C (nicknamed the Jungle Test) to assess a material's 'hydrolysis resistance', or rather, if and when a bonded or faux leather will crack, peel or delaminate in hot, humid conditions. The Association for Contract Textiles' guideline recommends a minimum 5 week rating. "Note that there is no direct correlation of testing weeks to years of service in the field." Even the best polyurethane resins for commercial use were never expected to last more than a few years.
What toxic pollution was spared by producing polyurethane leather instead of vinyl is neutered by their disposability and profusion in landfills.
Why are consumers misled about faux and bonded leather?
Most folks — consumers and salespeople alike — don't know how to tell the difference between real and artificial leathers and often assume it's real simply because 'leather' appears somewhere in the description. It wasn't until 2017 that the term 'leather' came to be regulated in the United States.
Still, ignorance and affordability allow these inferior fake leathers to prevail.
Even at a wholesale price, top grain leather costs about $100 / yard. Full grain costs even more, and it takes many yards to upholster a piece of furniture:
large club chair: 5-7 yards = $500-$700 leather cost
3-seat couch: 15-20 yards = $1,500-$2,000 leather cost
5 or 6-seat sectional: 30 yards = $3,000 leather cost
These figures don't include other materials like the wood or metal frame, foam stuffing, nor the labor. Do the math. If you paid $1,500-$2,000 for a new leather couch, it is likely fake.
There's no product that can stop 'leather' from peeling.
The instability of bonded and faux leather means new coatings don't adhere well. As such, repairs don't last and are discouraged. The video in option 2 below demonstrates how you'd repair it, and why we can't, in good conscience, recommend it.
Ask yourself: do you want to spend time and money to improve its appearance, knowing such an improvement may be short-lived and likely a waste (option 1 and option 2)? Or would you rather invest a similar amount of time and money in a better-quality piece that will last years, even decades (option 3)?
Option 1: Stain the Fabric
Peel and scrape away all the unstable polyurethane 'skin', and stain the exposed fabric with one of our water-based paints.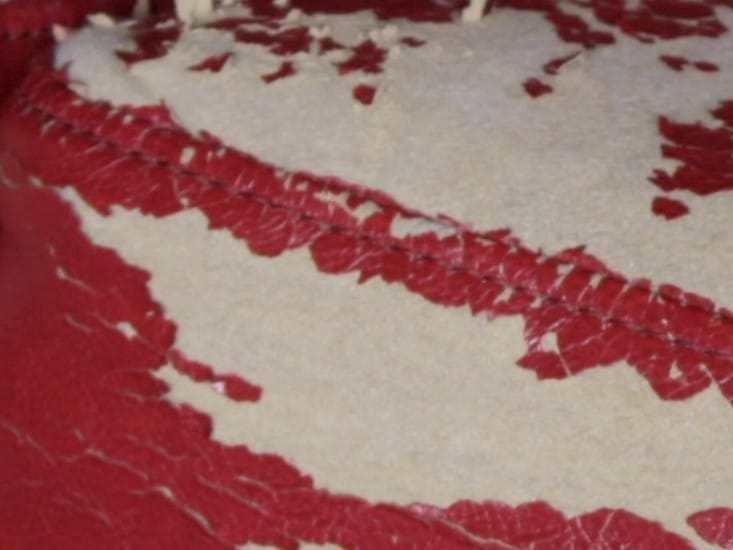 This will take a couple hours and cost $23 – $50, depending on the scope of the damage. This improves appearance somewhat, but you will not have a smooth, lustrous leather-like surface that repels water, and the disparity in texture will be obvious up close.
Option 2: Peel, Repair, Recolor
Resurface the exposed fabric using a leather filler putty or rubberized coating, followed by color, as demonstrated in the video below. You'll spend several hours peeling, resurfacing, and recoloring. The cost will range from $41 to upwards of $100. There's no guarantee the repairs will hold up, and the piece will continue to degrade elsewhere.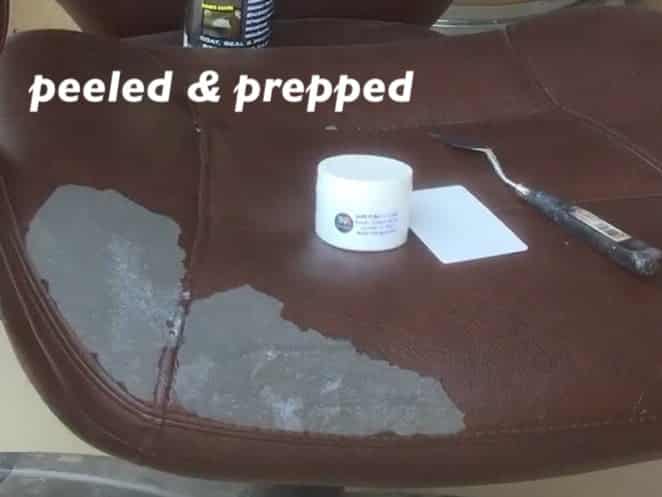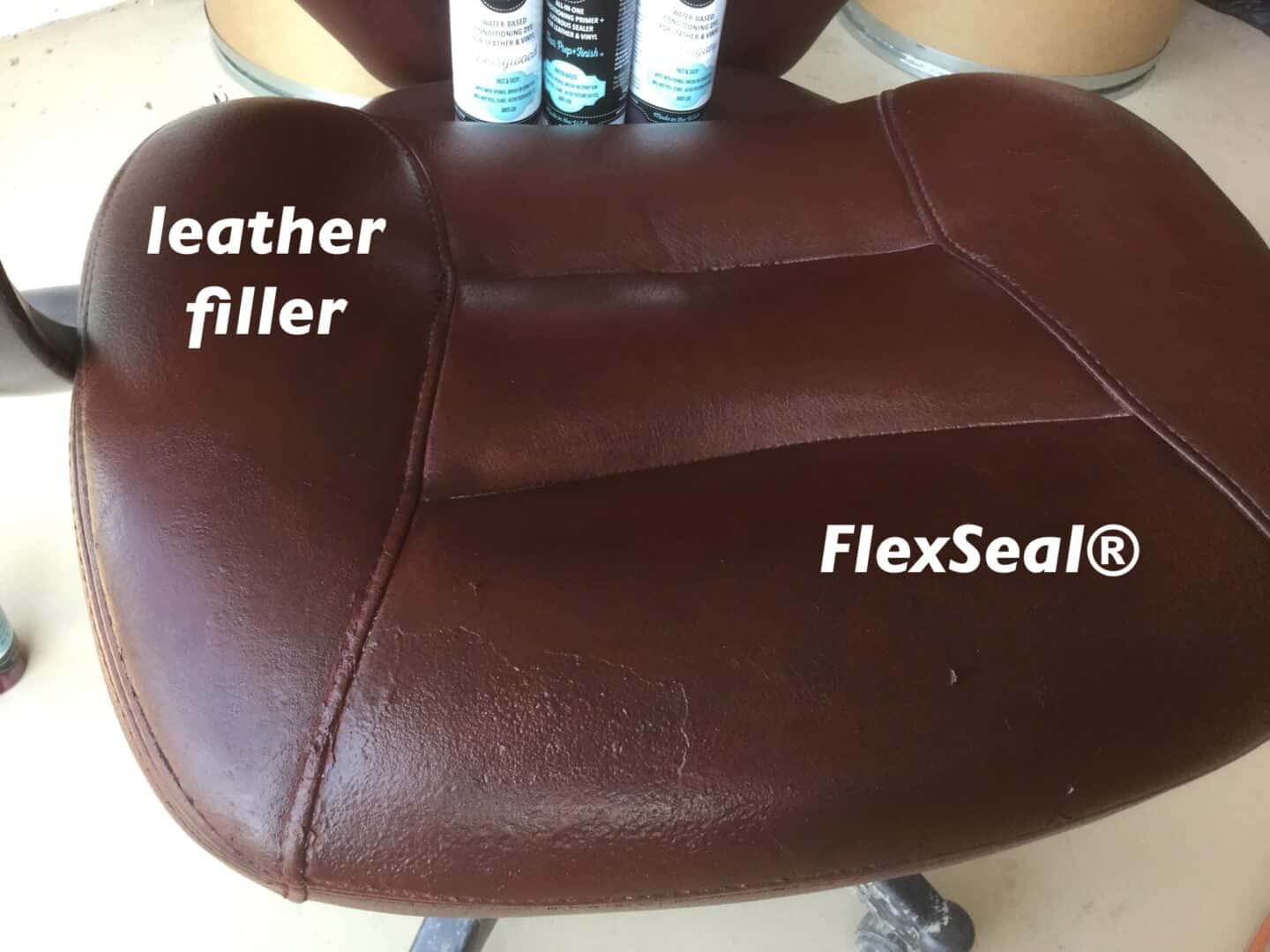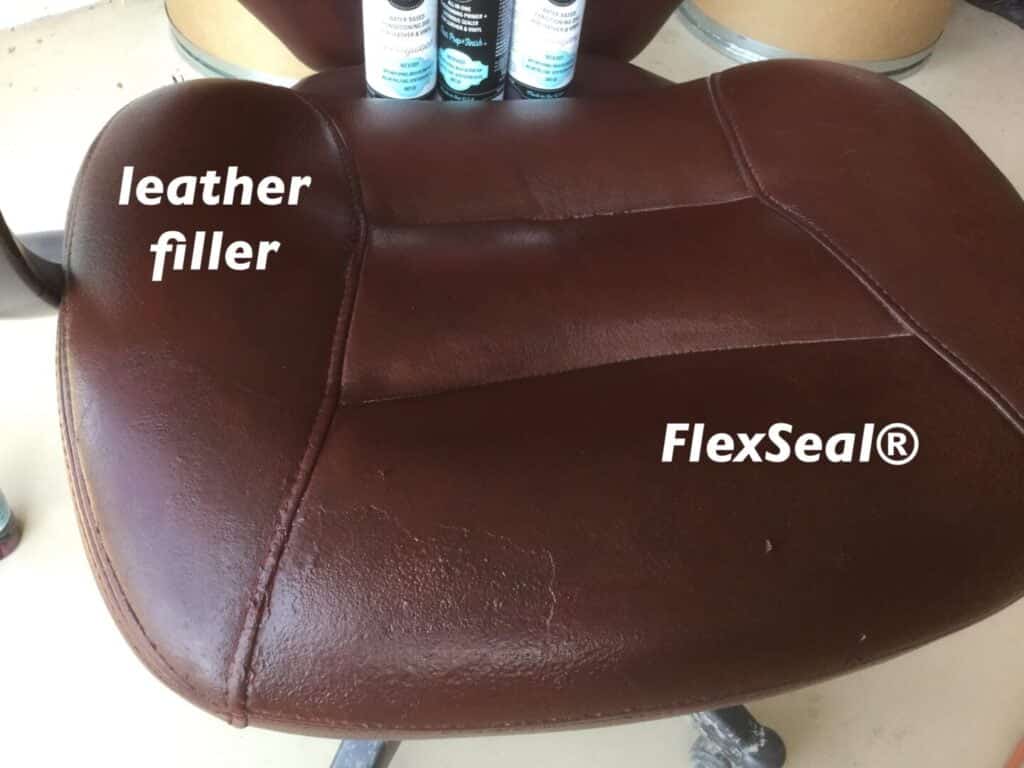 Video contents:
0:28 – Prep peeling
0:57 – Applying Soft Filler vinyl and leather repair compound
3:47 – Ugh, more peeling
3:58 – Applying Flex Seal rubberized coating
5:13 – Comparing Soft Filler and Flex Seal
5:45 – Recoloring
6:22 – The final result after refinishing
6:40 – The verdict after a month of use
7:19 – Our recommendation
Option 3: Cut the Loss & Invest in Something Better
Replace the piece with real, good-quality leather, and restore it or even change the color. It's amazing how many fine quality pieces can be found on Facebook Marketplace and Craigslist for just a couple hundreds dollars, if not for free. Don't be afraid of stains, fading or even a hole. These are easily repaired with the same — if not less — effort than that of option 2. The cost may be as little as $23. Even if you need lots of repair materials and spring for color matching on a huge sectional, you won't spend more than $250 – $300. Such an investment is worthy of a piece that cost several thousand dollars new and will last decades.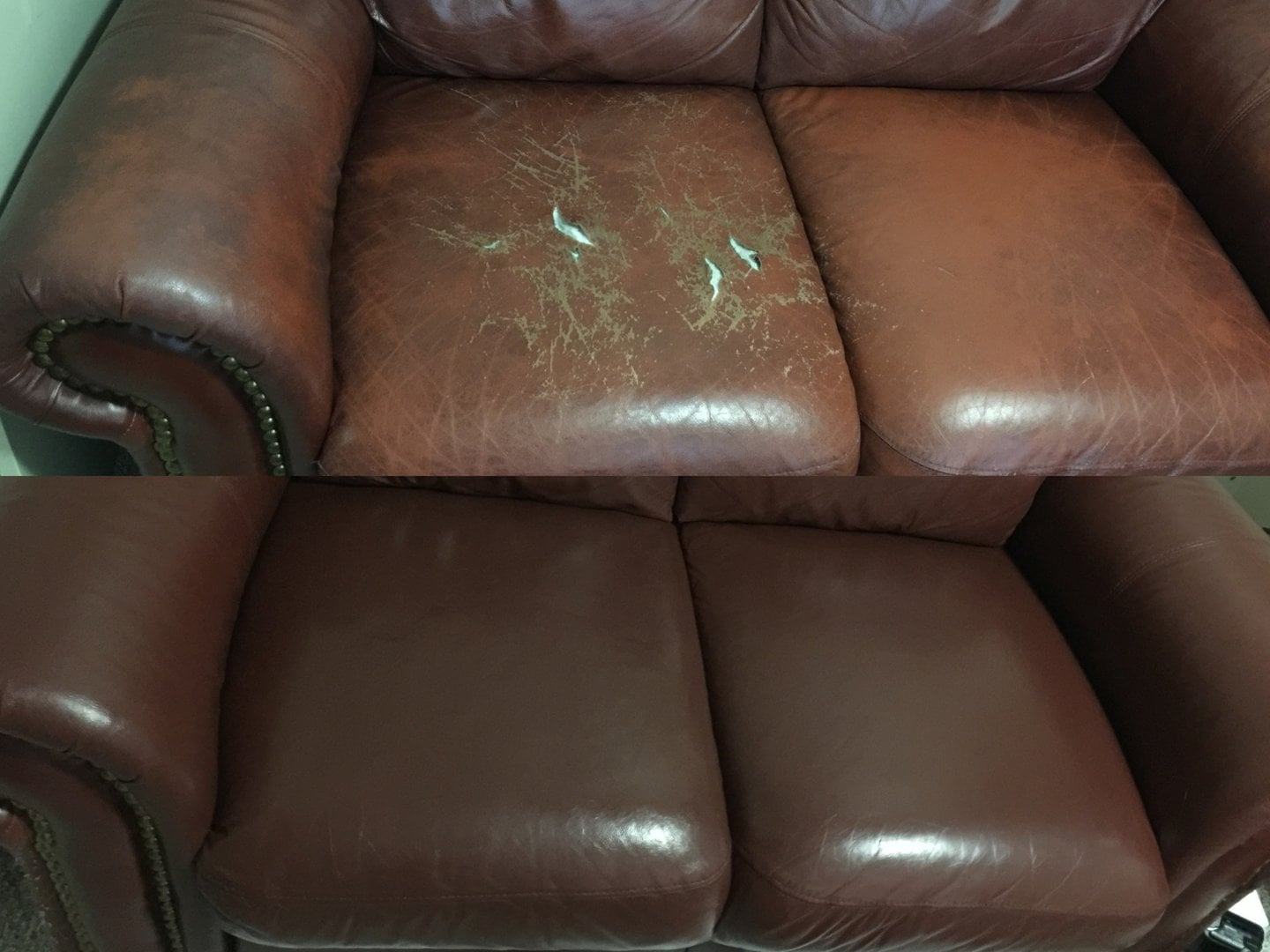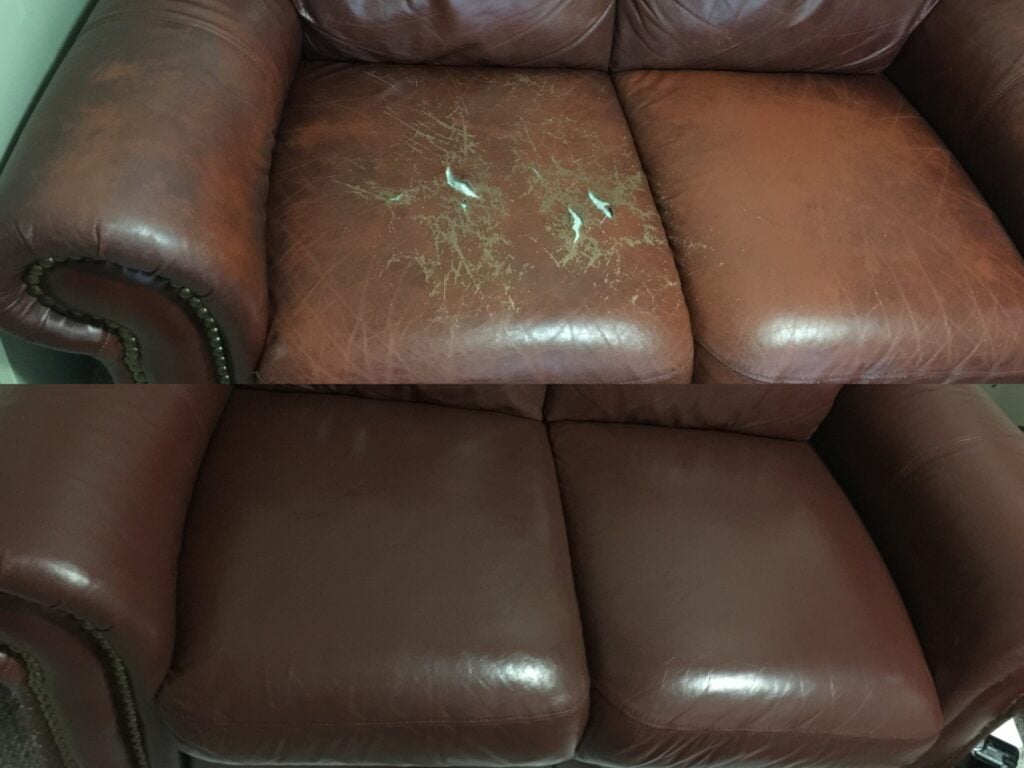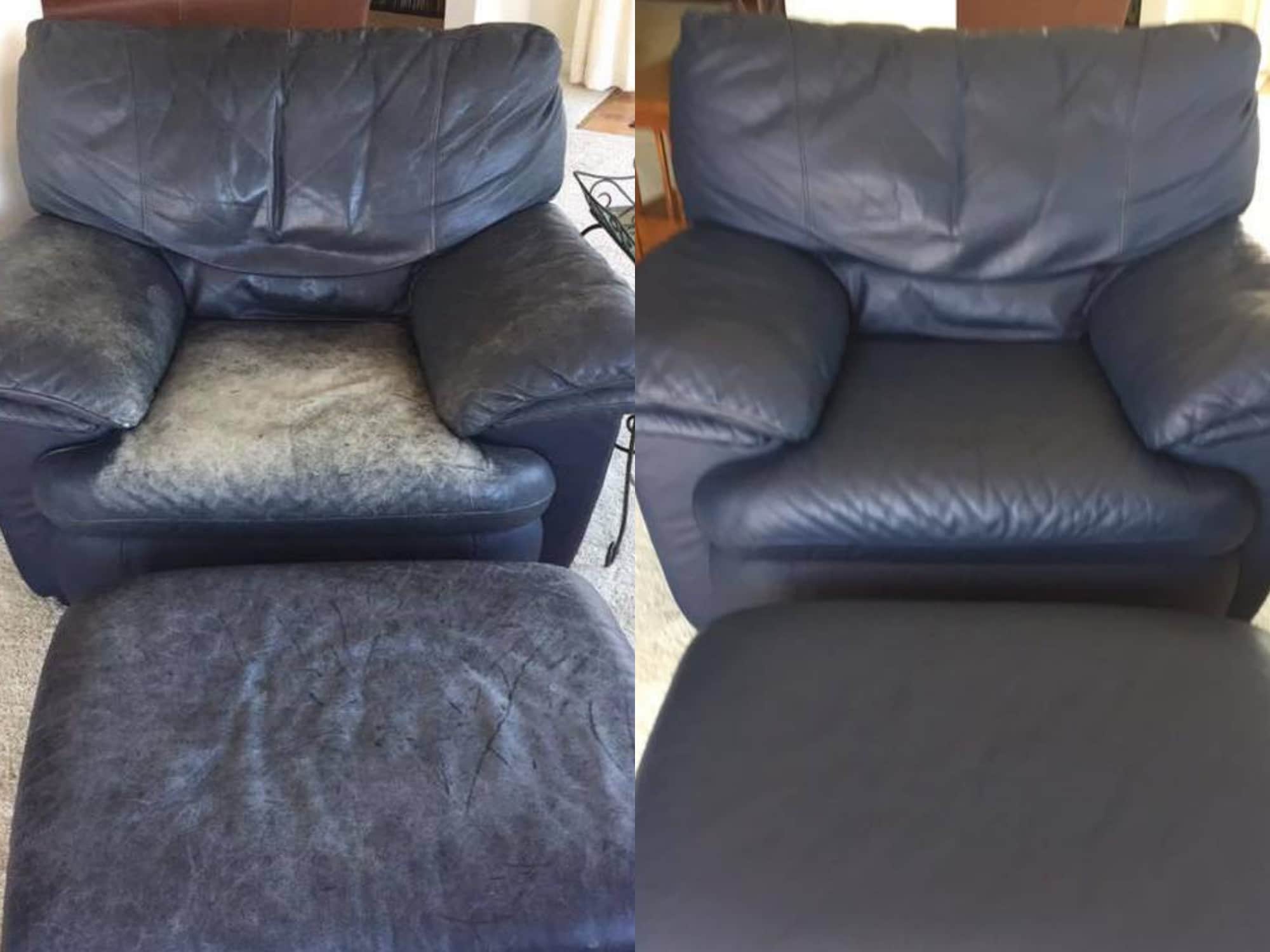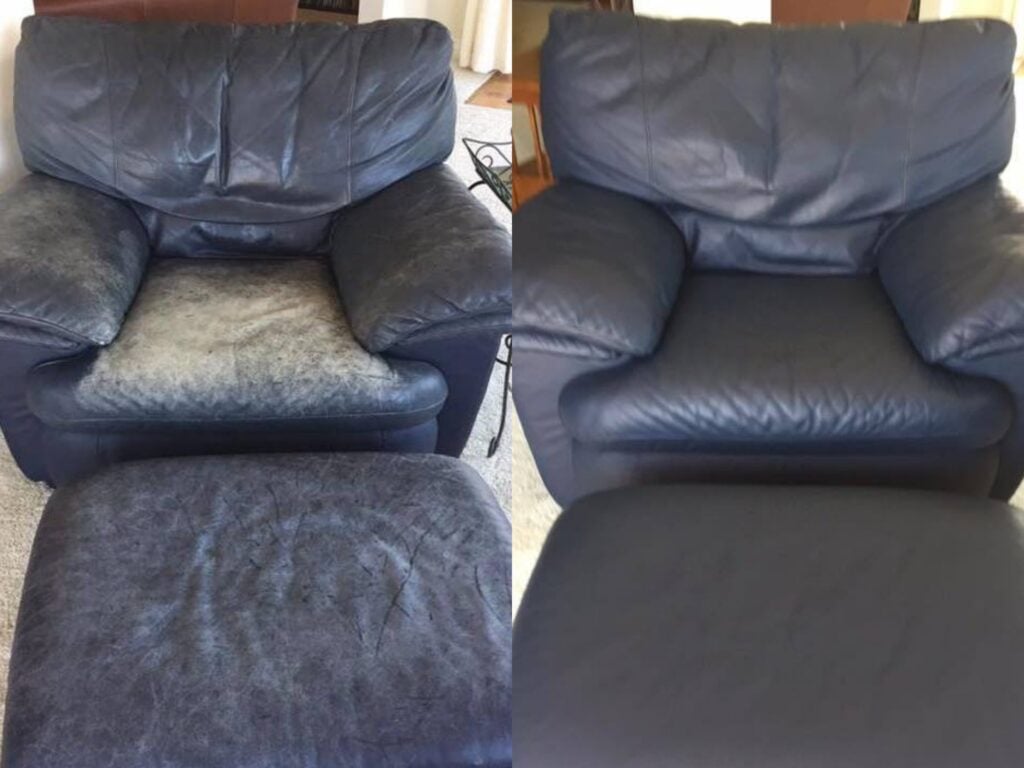 Here's how to spot the finest quality leather:
We love aniline and semi-aniline leather (top grain or full grain leather that has been dyed but has little or no clear finish). This makes them absorbent, which also makes them susceptible to stains and fading. It also means they can be found for cheap, often free.
Their absorbency also makes them the best candidate for a change of color, so even if you find one in the wrong shade, you can transform it to suit your décor.
Look for these features:
Removable cushions – These require more yardage and labor. If the cushions unzip, the interior stuffing can be cleaned, plumped up or replaced. Note that most recliner chairs and sofas do not have removable cushions, but many are still a decent quality finished (non-absorbent) leather.
Stains – Absorbent leathers with little or no clear finish will easily stain. Water marks, body oil, and pet stains may permanently stain leather, but they can usually be cleaned and concealed with a new color.
Sun fading – Absorbent leathers often show severe and uneven fading. The dyes used in these leathers are not as UV resistant as synthetic materials, and it will be obvious.
Marbling – Look for variation in color along with absorbency. Many fake and real leather will have a 'base-and-print' or two-tone appearance, but they will also repel water.
Suede backing – The backside of the material (or areas exposed by cracks or tears) will be real suede, not microfiber or a woven fabric.
Don't be deterred by cat scratches or a hole! These can be repaired.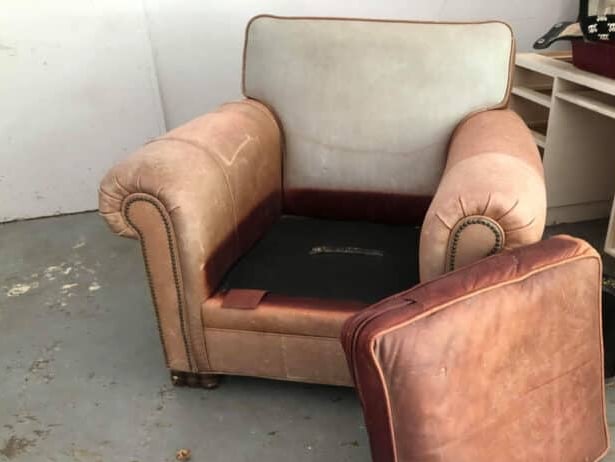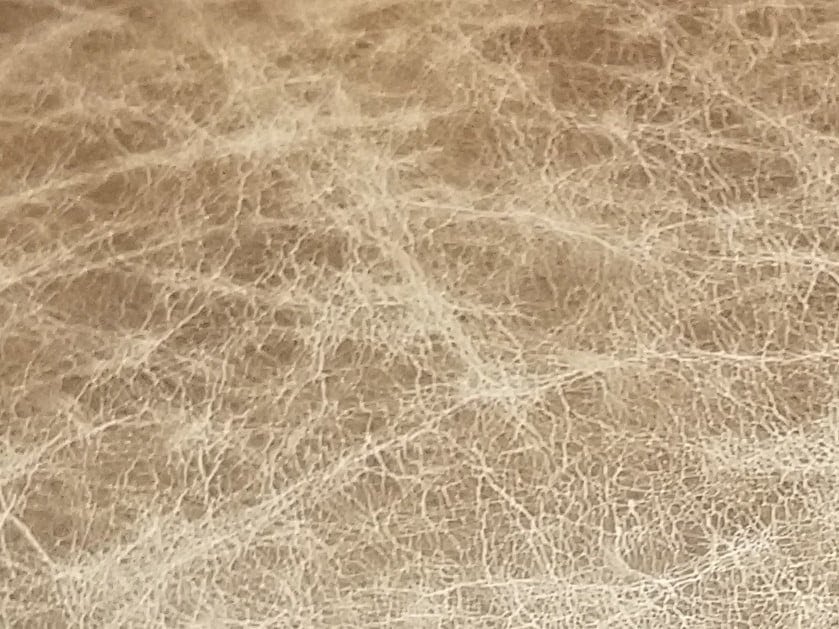 Also, don't be fooled by some kinds of faux leather. As the smooth surface becomes worn, microfiber is exposed. It has a nap like real suede or carpet that can be brushed in any direction. These types of faux leather can be stained and coated with clear wax, but they are still poorer quality and not recommended.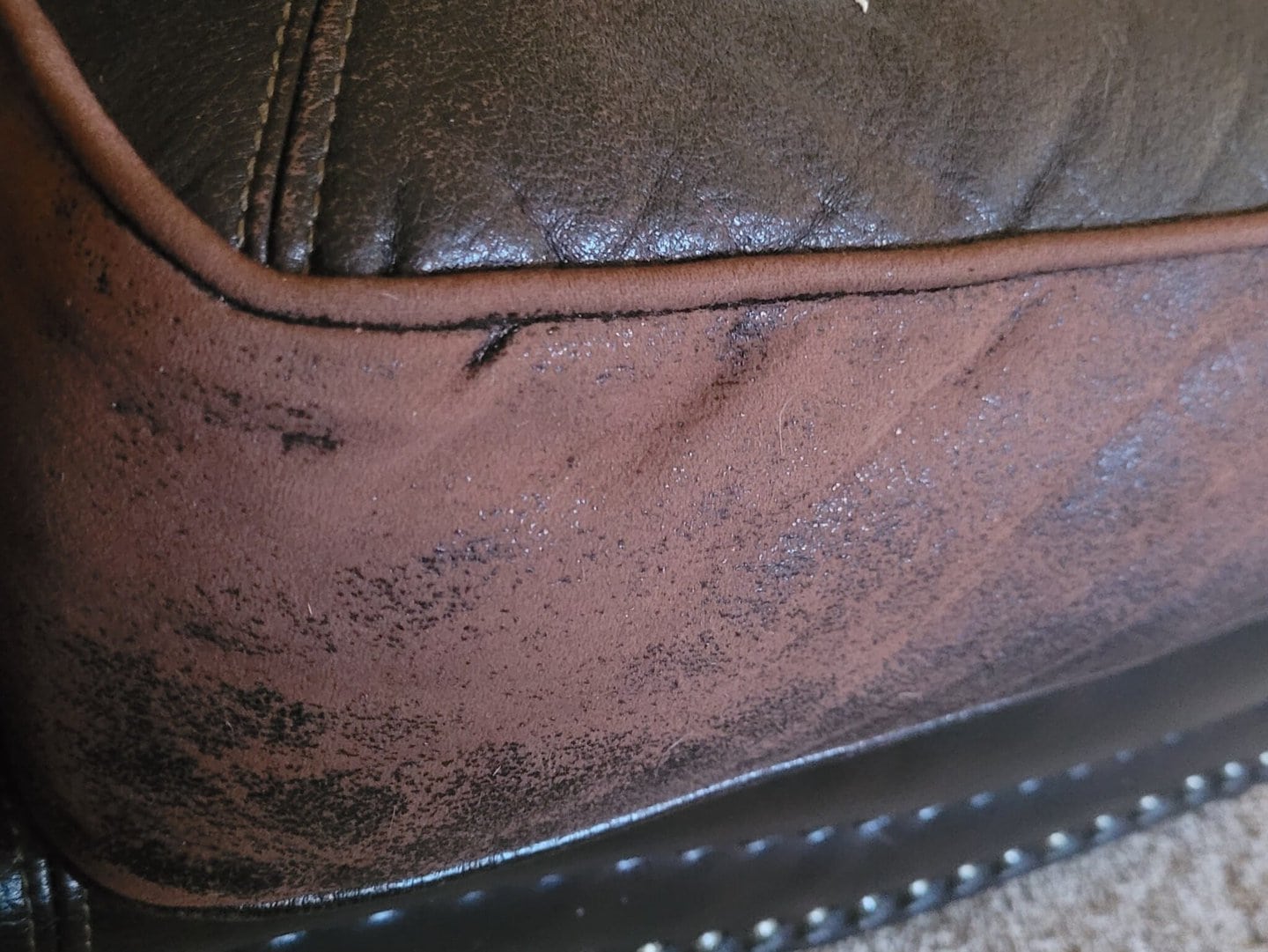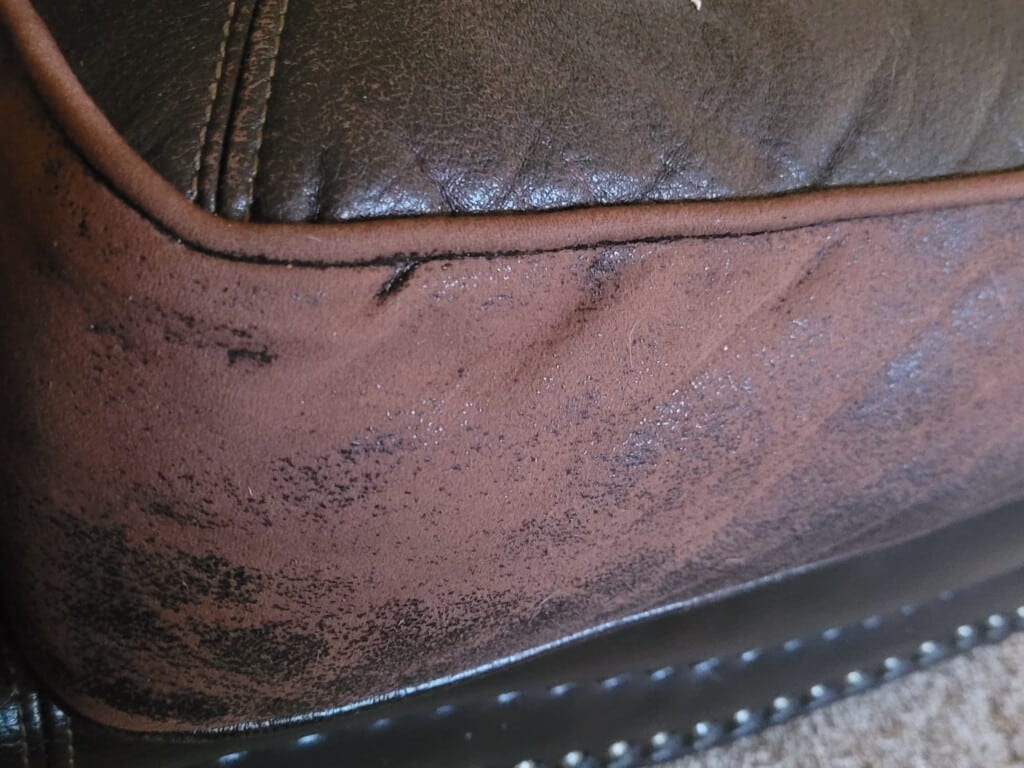 Learn more about the types of the leather as well as the differences between dyes and finishes.
If you need help, submit photos and request a consultation from the gal in the videos!