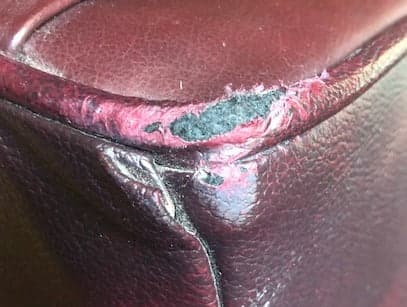 Welting or piping, the cord trim on upholstery, can be a tricky repair due to the curves involved. The key is to avoid getting any filler in the seams, which, if allowed to cure, will obscure the shadow line and result in a solid, patched look.
Here's how to repair a hole in leather or vinyl upholstery piping and welting:
If the damage to the piping exposes a cord, and the leather or vinyl floats freely over it, a subpatch is recommended to close the hole and maintain separation between these elements. If you'll be applying filler to the hole, insert the patch suede or fabric side up to ensure the best adhesion.
Apply a small blob of Soft Filler to the hole. Smooth it around as evenly as you can using a palette knife. If you were unable to subpatch, filler will not adhere to a plastic cord substrate. In this case, apply a thin layer of Dap Dynaflex 230 to bridge the plastic and the filler.
Use a flexible business card to smooth the filler across the gouge(s). Quickly remove any excess from seams, and feather the edges.
Allow to cure.
Repeat steps 2-4 until the gouged area feels even.
Apply a little more filler to the area and smooth.
Wearing a glove, trace the piping with the thumb and index finger to mimic the round contour as much as possible. Remove excess.
Allow to cure.
Use rubbing alcohol to feather or smooth any edges.
Apply a thin texturizing coat if necessary.
Allow to cure.
Apply color and clear finish.
This video demonstrates the general use of filler.