Some faux leather furniture is made of polyester or microfiber fabric with a thin polyurethane finish that creates a leather-like appearance. As the finish wears, the microfiber is exposed. Ultimately we discourage refinishing this material for the same reasons as peeling or flaking bonded leather: a material that can't hold its own finish isn't likely to retain anything else you add to it.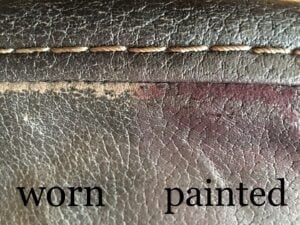 That said, a paint will permanently stain the worn, exposed fabric so it may better match the original faux leather surface. However the appearance and texture will be uneven, and fuzzy fabric will stiffen as a result of being painted.
Many folks report success with chalk paint. However, we suggest using a thinner fabric paint or our water-based leather finish, because chalk is limestone (sedimentary rock) and is too heavy and inflexible for flimsy faux leather. Applying Annie Sloan's Clear Wax over the top of the worn, painted areas will yield a smoother texture and more uniform appearance.
Here's how you'd do it:
Clean the furniture with denatured or rubbing alcohol and allow to completely dry.
Thoroughly stir Rub 'n Restore® color and combine with equal parts of our Clear Prep+Finish™.
Dampen the worn fabric with water. This will allow the color to disperse and absorb more evenly. Work in small sections.
Apply the color-Clear mixture to the damp fabric using a brush or sponge, taking care to disperse and blend.
Buff the surface with a dry rag to remove excess paint, so the fabric will dry softer. Take care not to overscrub the nap.
Use a damp rag to remove excess color from the any faux leather finish that remains intact, as the color dries matte and may look too dull or light. Many of these materials have a more lustrous finish.
Allow to dry. This may take several hours. A fan in the room will help. It will not stain clothing once totally dry.
Repeat as necessary.
Apply Annie Sloan Clear Soft Wax to the worn, nappy areas. The fabric will look, feel, and repel water more like real leather. See here and here. Do not use Clear Wax on velour, velvet, or any remaining faux leather (polyurethane) surface. Clear Wax will require periodic reapplication to maintain the new 'finish'. Re-stain the fabric, if needed, prior to reapplying wax, as the wax will likely repel the paint.
If it's not already obvious, we don't recommend color changing these materials.