An approximate match can be obtained by comparing our handmade color swatches to the leather or vinyl to the upholstery.
For an exact match, colors must be formulated and tested directly on the upholstery. Local artisans can match color, repair, and restore leather and vinyl, but the cost can range anywhere from US$200 – US$2000. Alternatively, you can mail a sample (like a cushion case, head rest, or piece of material) to a professional service like Rub 'n Restore, Inc. to DIY. Learn more about our color matching services here.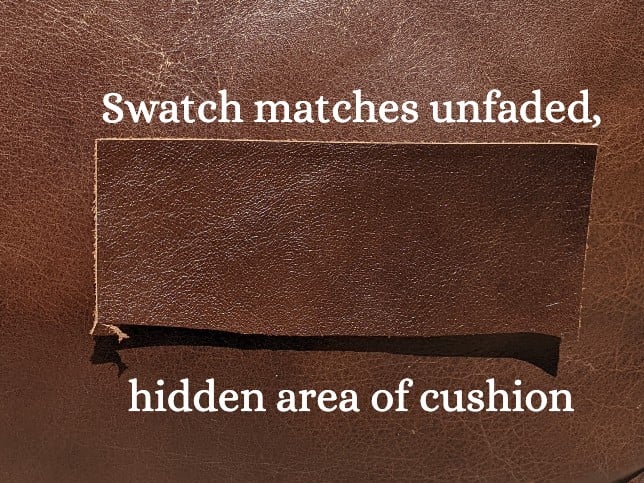 Consider these factors in matching your color:
Every manufacturer has their own version of mahogany or ivory, for example. Don't assume the color will match because the name is the same.
Colors display differently on screens and devices. Do not accept a color matched from an image.
Do you need an exact match to touch-up a small area? Or does the whole piece need refinishing, in which case a similar but inexact color will suffice?
Swatches hidden under cushions or trimmed from the frame sometimes do not match undamaged, visible areas. In this case, a color formulated to match the swatch won't match the greater piece. This means you may have to recolor the entire piece and might consider a standard color that incurs no matching fee.
Color Matching Services
Rub 'n Restore, Inc. can match your color if you provide a sample and pay a fee. First, consider our professional consultation to help us better assess your project and provide tailored instructions.
Starter Color Analysis
This is the affordable color matching solution. We determine which colors and ratios best match your swatch. This allows you to buy as little as 2 oz. sizes and mix your own color. If we can't get a good match with our off-the-shelf colors, we will suggest upgrading to the Advanced Matching & Custom Color service.
Purchase Starter Color Analysis
Or include a check with your swatch. We'll contact you with the analysis results within 1-2 business days after receipt.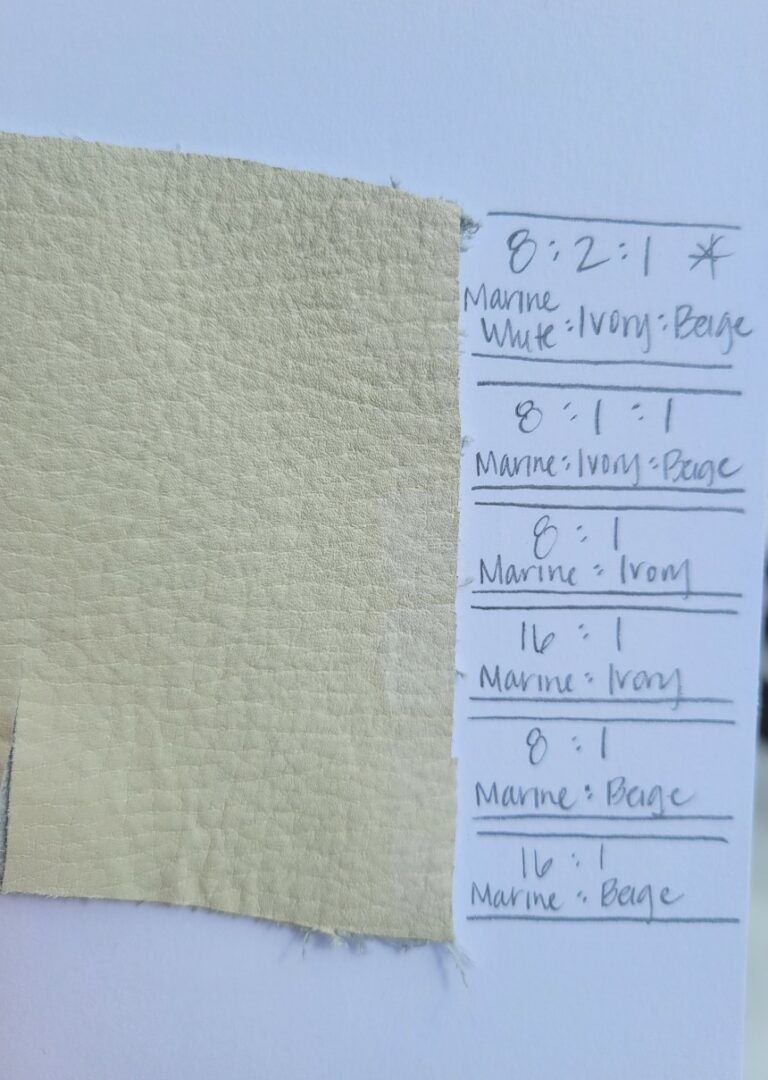 Colors and Clear Prep+Finish™ are sold separately. Please note that there may be a slight variation between our analysis and your results after mixing larger volumes of color. That being said, the color blends easily, and most folks are thrilled with the results. Just look at the reviews!
Advanced Matching & Custom Color
Custom Colors are recommended for bright primary or secondary colors, auto, RV, boat, and aircraft interiors. We formulate a unique color and keep a record of it on file. Turnaround time is typically 1-3 business days.
Our formulation process starts with mixing a small amount of color and testing it on your sample. We examine it in sunlight and indoors. We adjust the color accordingly and re-examine until we are satisfied with the formula. This is a painstaking process done with a professional eye. No computer can read the color on a textured surface nor write a formula as accurately, and certainly not without human refinement. This is especially true with base-and-print or marbled aniline leathers.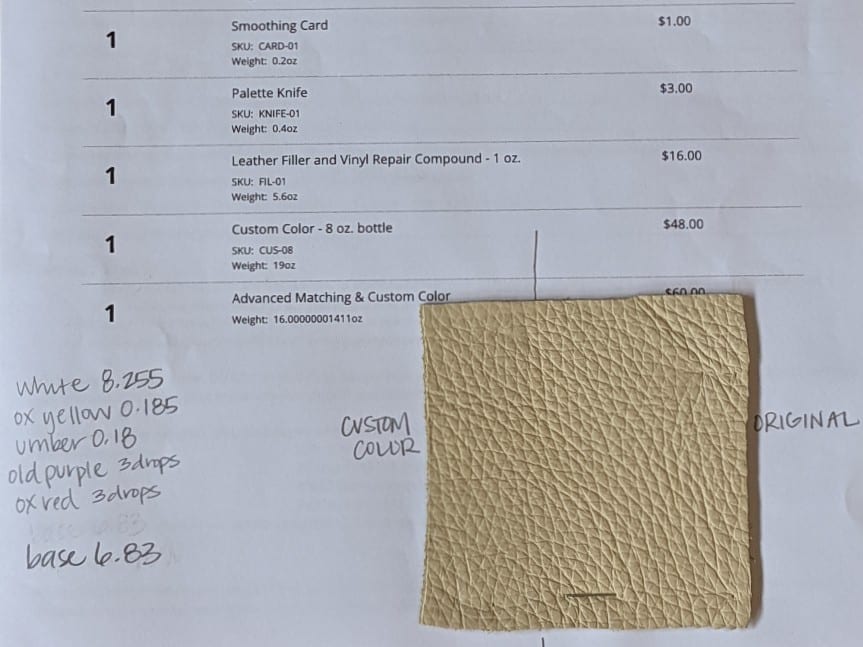 We then expand the formula to the desired volume. This final color is tested once more on the original sample and adjusted if necessary. We then use the Custom Color to stain a piece of leather or vinyl. Half is returned to you with your order (and any components you may have sent); the other is retained on file in the event of a future re-order.
Our reviews and this video show how pleased others have been with this service.
Send Your Sample of Leather or Vinyl
Samples should be at least 2″ x 3″ in size and can be:
Original leather or vinyl (found underneath cushions or pull some staples and trim from the frame)
Cushion case (please indicate which area you want matched with a piece of painters tape)
Headrest, fuse panel cover, or component from a vehicle
Paint chip from a hardware store (beware, the paint chip may not actually match the material)
Please print out and include the Color Request Form and mail to:
Rub 'n Restore, Inc.
PO Box 1149 (mail / post only)
39585 Lund Rd. (UPS / FedEx / DHL only)
Paonia, CO 81428 USA
Disclaimer
Swatches often do not resemble their faded counterparts. If so, neither will our mix, and you may have to recolor the entire piece. In this instance, you may prefer going with a less expensive stock option.
Many samples are two-toned, base-and-print, or marbled. You trust our expertise and grant us creative license to mix a single color that will blend well. Our products are easy to use and forgiving but require some creativity and experimentation on your part. Our guarantee is void if the user does not follow our recommendations, instructions and any troubleshooting. Matching fees are non-refundable. We do not accept returns on Custom Colors.
Our guarantee is void if the user does not follow our recommendations, instructions and any troubleshooting.
Return Policy
Matching fees are non-refundable. We cannot accept returns on Custom Colors unless we find fault in the product or match to the sample provided. Please read our return policy.