Rough, scaly leather or vinyl may be corrected with a gentle sanding and a new finish. Deeper cracks, splits or sun damage should be repaired with flexible filler and then refinished with color.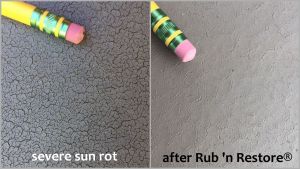 For minor scaliness:
Sand with 320 grit.
Clean with alcohol.
Start with a glaze (mix of Rub 'n Restore® Color and Clear Prep+Finish™). This is more cost effective and will allow subsequent layers of color to dry more evenly.
If this is insufficient, fear not!
Clean the area with alcohol again. This will strip any unabsorbed, uncured finish.
Let dry.
Apply a flexible leather putty like our Soft Filler. This video demonstrates the process. Skip ahead to minute 3:14.
Filler should also be used if:
the material is splitting or cracking or
suede is exposed.
NOTE: Filler may be cost prohibitive for large areas of sun-rotted vinyl like spa covers, tonneau covers, vinyl tops, boat upholstery or yurt roofs. In this case consider resurfacing vinyl with a rubberized coating. Do not use rubberized coatings on real leather.
Liquid Rubber® is water-based and can be diluted with water, making it more versatile and less noxious. It must be ordered online.
FlexSeal® can be found in most hardware stores in either an aerosol spray or liquid. However, it is solvent-based. It is more noxious, cannot be diluted with other solvents, and is therefore less versatile.
Either way, a Rub 'n Restore® Color can be applied after if the desired shade is unavailable in the rubberized coating.