Most holes in vinyl or leather upholstery can be fixed with a subpatch and leather filler. However, when the hole is larger than 2 inches (5 cm) in diameter, it's better to glue another patch to the subpatch. This improves appearance and texture, as the leather filler can feel stiff when used to fill large voids on flexible surfaces.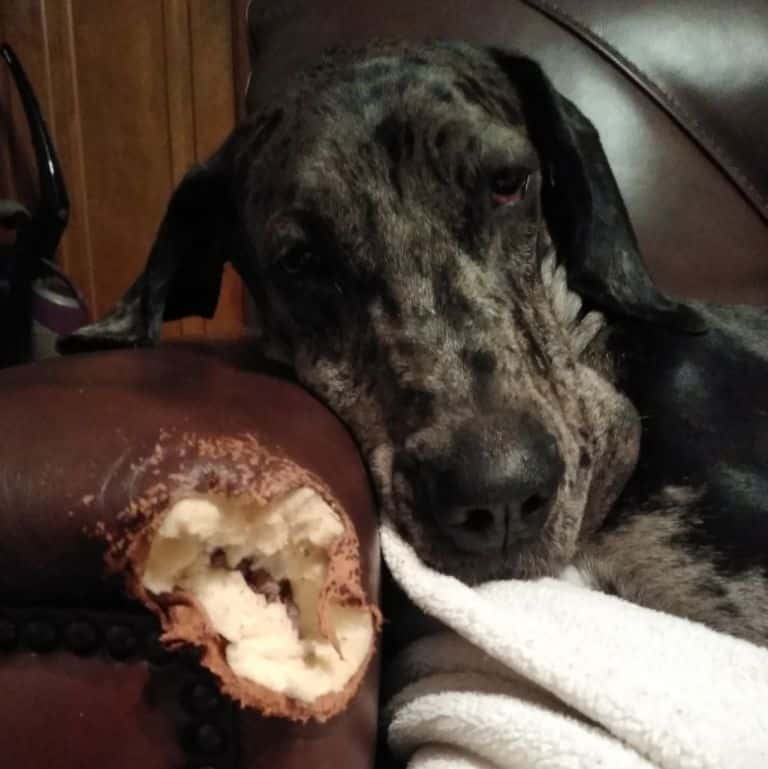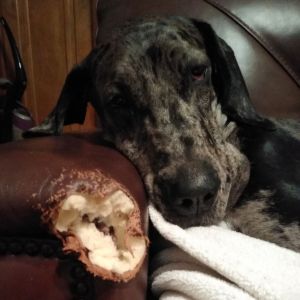 Here's how to repair this giant hole damaged by Fido chewing on the arm of the leather furniture.
If necessary, repair any damage to the substrate foam by plugging in a new piece (or as few pieces as possible). Buy heavy-duty upholstery foam from an upholstery or fabric supply (we may also have small pieces available). Don't be afraid to cut away more of the original foam; this may make plugging another piece easier. Be patient in sculpting the new foam to fit the hole. The subpatch and repair will hide minor variations, but the foam plug should be level and smooth. Use a non-toxic fabric glue to adhere the new foam to the original (the glue we sell in our subpatch kit has a solvent which will melt the foam and cannot be used). You can also do a couple large whip stitches with thread if that's easier, but take care to avoid tearing through the foam.
Prepare and insert your subpatch. Cut a piece of twill or thin denim that's at least an inch larger than the perimeter of the hole. Lay the patch on top of the hole. If there are curves (top to bottom, side to side) where the patch bulges or wrinkles, cut out little triangles so the patch can lay flat without overlapping. Round any corners for easier insertion. Then insert the patch underneath the leather and glue down with a strong, flexible fabric glue (the glue in our subpatch kit is perfect).
Prepare and apply your top-patch. If you don't have excess of the original material, buy some leather or vinyl (PVC) with a similar thickness, grain, and if possible, color (we can sell you a piece if you supply a photo of the grain and dimensions). Do not use polyurethane or polyester faux leather. Cut the patch to fit inside the hole, minimizing the gap between the original material and your top-patch. It is better for the patch to be too small, rather than to overlap the original material. Rounded corners will glue down better than pointy ones. Use the same fabric glue to adhere the top-patch to the subpatch. Work in small sections if necessary until the entire perimeter of the hole is secure. Ensure the glue is completely dry before applying filler.
Repair the remaining gaps with leather filler. See how to use our Soft Filler in this video.
Apply a water-based finish to conceal the repair. Learn how to match color or change color.
| Type of Damage | Total Area of Damage | Filler Needed |
| --- | --- | --- |
| Scaly, cracked, worn or thin but no large holes or voids | 4 sq ft (2ft x 2 ft) | 1 oz. |
| Scaly, cracked worn or thin but no large holes or voids | 8 sq ft (2 ft x 4 ft) | 2 oz. |
| Holes or tears (requires a subpatch & more layers of filler) | 12 sq in (1 in x 1 ft) | 1 oz. |
| Holes or tears (requires a subpatch & more layers of filler) | 24 sq in (2 in x 1 ft) | 2 oz. |