The first 1-2 coats of Rub 'n Restore® may appear thin, especially with color changes, but once coverage has been achieved, the color will not darken any more.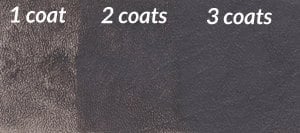 Changing to a pale colors or high-chroma (bright) color like red and yellow will require more coats to get coverage. Learn more and troubleshoot poor coverage issues.
Rub 'n Restore® is a pigmented finish, not a dye. Dyes will accentuate the natural variations of the leather and continue to darken with additional layers. Pigmented finishes are more like paints. They can color change a surface, much like a painting a wall in your home. Learn more about the differences between dyes and pigmented finishes.