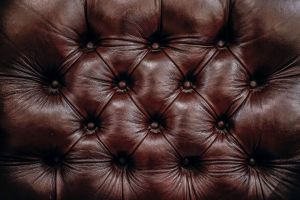 Use two small brushes and a damp sponge to restore or recolor tufted upholstery.
Use one brush to apply Rub 'n Restore® Color to each button.
Before the color begins to dry, use the second brush to trace your path and "wick" excess color from wrinkles, folds, and the button's perimeter.
Allow the color to dry.
Do all the buttons and any other nooks and crannies before graduating to the sponge for the broader, smooth surfaces.
You can also use a spray gun.
To create a mottled or antiqued appearance, use a slightly different color either in the depths of the buttons or the plush high spots.