Spa and hot tub covers are made of marine vinyl and will begin to desiccate (dry out) after one season of summer sun and winter weather. Conditioners will keep the vinyl from drying out, but only a pigmented finish will act as a durable sunscreen. Cracks and tears need to be addressed promptly before the entire cover loses structural integrity or becomes cost-prohibitive to repair.
We guarantee that our finishes will double or triple the life of a vinyl hot tub cover, if not too far gone. This picture from 2004 shows a Custom Color applied to Rebecca's:
Twelve years later the cover had become water-logged. Rebecca found a used cover and swapped the foam inserts. The vinyl on the used cover was years younger, but Rebecca's—despite years of blistering Southern California sun and torrential rainstorms—was in better condition thanks to a one-time application of 3-4 coats of Rub 'n Restore® over a decade prior.
Rub 'n Restore® Ivory, Beige, Taupe, Camel, Rust, Walnut, Slate, Ash, Storm Blue, Midnight Blue, and Forest were modeled after common marine vinyl colors used in the production of hot tub covers. Colors containing white (titanium oxide) act as an especially potent sunscreen.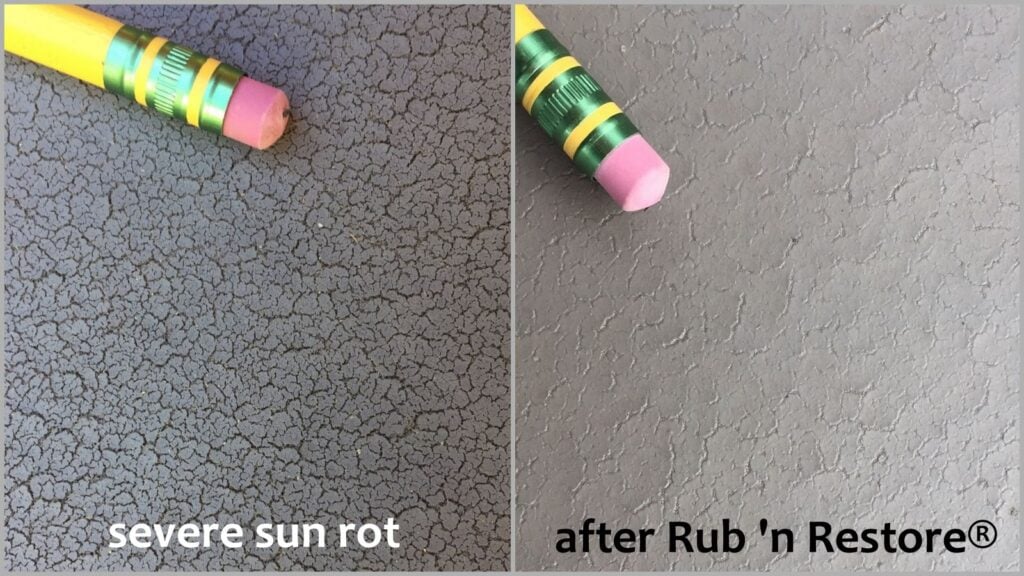 All this said, Rub 'n Restore® cannot reverse damage (i.e. waterproof a leaky cover), nor is it a void filler. The sun-rotted marine vinyl pictured above benefited from four coats of color, but anything worse requires a proper vinyl repair putty like our Soft Filler (see video below). This, however, is cost prohibitive for large areas of degradation.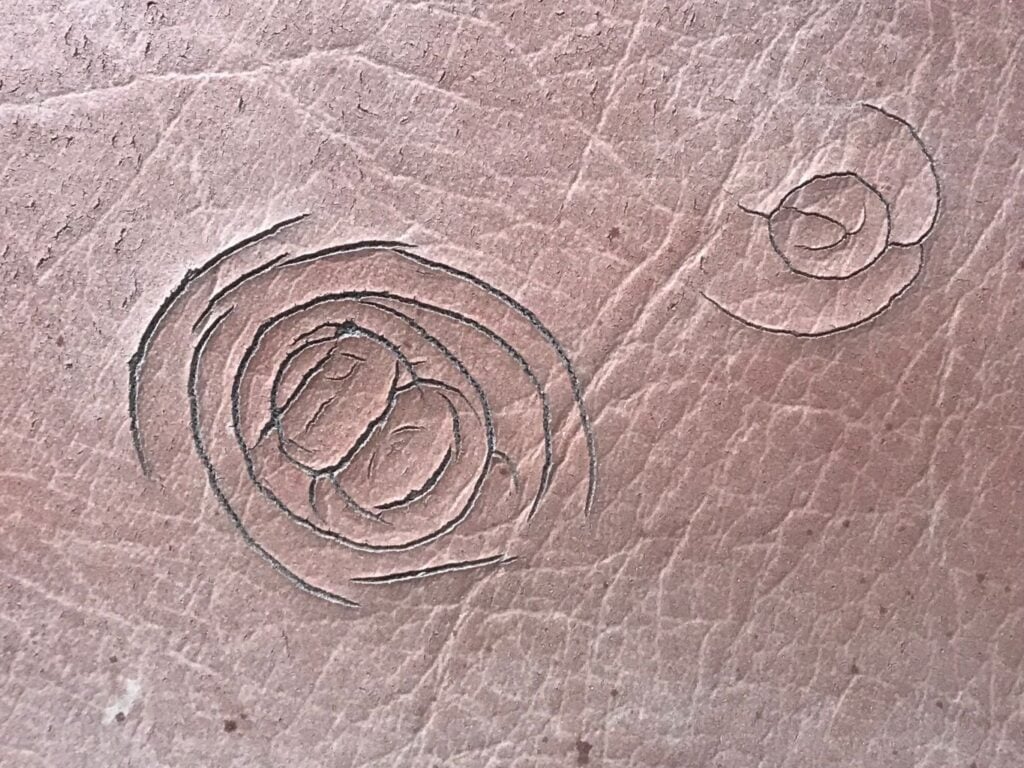 Vinyl with extensive cracking, scaliness or flaking is best resurfaced with a rubberized coating. Click here to learn more and assess what you need.
If and when you spring for a new spa cover, be sure to protect it with Rub 'n Restore® before the second summer comes 'round. You'll only have to deal with eventual water-logging, not disintegrating vinyl. We've even had customers use it on vinyl siding!
This video demonstrates a repair and refinishing of a spa cover using a subpatch, Soft Filler, Flite Cleaner, Clear Prep+Finish™ and Espresso color.
Video contents:
0:29 – The hole repaired using this method
0:41 – Cleaning
1:01 – Priming with Clear Prep+Finish™
2:20 – Maintaining moisture level in your sponge
2:42 – Applying anti-UV pigment
3:48 – Before and after pictures