How do I repair & restore the color of my leather couch?
Repair any damage
Fix holes, tears, scratches, thin or worn spots.
Go lustrous or matte
Clear Prep+Finish™ is used alone or mixed with color to get the right luster.  
Rub 'n Restore® finishes are water-based coatings that cover up stains and fading. They condition and extend the life of leather or vinyl. Rub 'n Restore® will not crack, peel or flake or stain clothing.
"Can I really recolor and restore my sofa by myself?"
YES!
Our products and support have helped thousands of people repair, restore or change the color of their leather sofas!
Take the hassle out of choosing the right products by using our professional project evaluation service.
Check out the How-to Resource Library to learn everything you need to refurbish your leather couch.
It will take a few hours and a little elbow grease, but we are confident that you will succeed!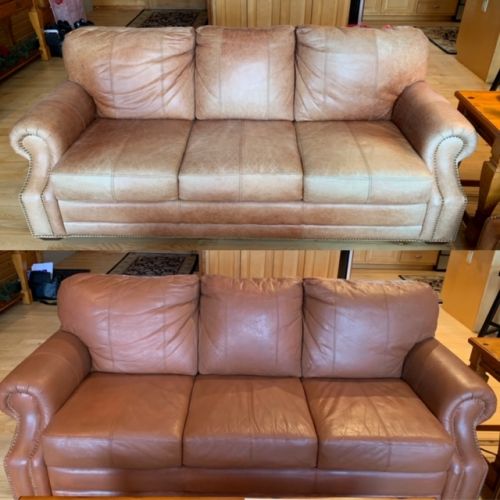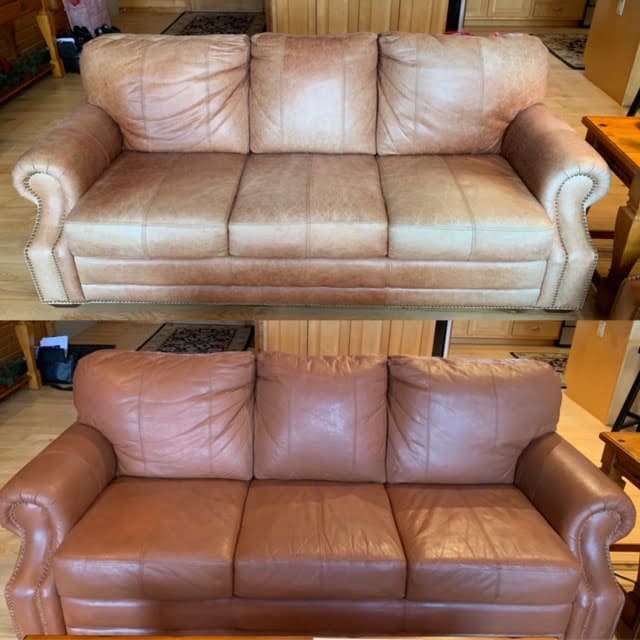 Our customers rave about the results!
"WOW, Amazing, Unbelievable... only a few adjectives to describe how great this leather sofa turned out. A perfect custom color match and an easy two step process thanks to your step by step video. My husband and I are thrilled. I am so happy I found your company on the internet. Much success to a great mother/daughter team." - Susan May
How much does it cost to restore a leather couch? 
In general, you can restore for as little as $25.
You can repair damage and do a color restore from $80.
This is a fantastic deal when you consider the cost of replacing a leather couch!
Basic color restoration cost estimates:
Touch up the color of your sofa: $16 for 2 oz. of color.
Change the color of your sofa: $70 for 16 oz. of color.
Match an exact color: $20-$60 fee plus cost of color itself.
Add more luster or make a glaze: 4 oz. of Clear Prep+Finish™ is $14.
Additional leather repair & cleaning costs:
Soft Filler, subpatch kits, and repair supplies: $16-$63 to fix holes or cracking.
Leather cleaner: $8 only for non-absorbent leather and vinyl. Everything should be cleaned with rubbing alcohol.
Shipping is free on all US-destination orders over $45.
Folks outside the USA can use coupon code internationalCLUB for a discount on every 8 oz. or 16 oz. bottle of color purchased.