Repairing cat scratches on vinyl or faux leather is painstaking work, and perfection is nearly impossible (unlike similar damage to real leather).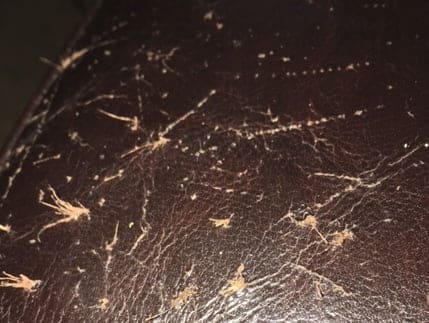 The results are almost as good (not to mention faster and cheaper) by tacking down or trimming away any flaps and then staining the exposed fabric with a similar color. However, the gouges will remain, and these areas will not repel water nor reflect light without a leather filler.
How to Repair Cat Scratches on Vinyl or Faux Leather with Our Soft Filler
Trim away any fibers or threads (or stuff them back into the puncture).
Subpatch any holes that are larger than the size of a pencil eraser.
Use a large needle and a flexible fabric glue (or even Soft Filler) to tack down every little flap, and scrape away any excess. If any flap stretched and does not fit into its respective puncture, cut it away completely.
Allow to dry.
Wipe the surface clean with denatured or rubbing alcohol.
Use our needle glue applicator to apply a tiny dab of Soft Filler to each gouge.
Level it smooth with a plastic spreader or glossy business card.
Allow to cure under sunshine or an incandescent bulb.
If necessary, use rubbing alcohol to melt the filler and smooth any uneven areas.
Repeat until an even surface is achieved. The filler may shrink as it cures, so additional applications may be necessary (typically 2-3), and even then it may still appear pitted, bumpy, or uneven. One can, instead, do a large pass of filler over an area of damage. Beware of a heavier-handed approach on bonded or polyurethane faux leather, though, because these materials delaminate and may damage your repair.
Apply a final thin layer of Soft Filler and emboss the wet filler with saran wrap or a gloved hand to impart texture. Allow to cure.
Apply color and clear finish.
PLEASE DO NOT DECLAW YOUR CAT!
This procedure is amputation of the bone to the last knuckle, not mere removal of the nail. It's banned in many countries and opposed by the Humane Society and the American Society for the Prevention of Cruelty to Animals. Declawing can decrease use of a litter box and increase biting. Cats are smart creatures and can be easily trained with a spray bottle of water (set on shoot-to-soak) and pheromone sprays. Give them a scratching post where they can engage in their natural behavior. You can also trim their claws with pet nail clippers. Others report success using Soft Paws or other claw caps.