How to restore leather upholstery like a professional at a fraction of the cost.
Repair any damage
Use soft filler and sub-patches to fix any major damage. 
Apply the Color
Use a damp sponge or spray gun. Reapply until the desired coverage is reached.
Dial in Your Finish
Apply Clear Prep+Finish™ to add gloss, or mix with colors to make a more translucent glaze.
Enjoy Your 'New' Furniture
Your sofa or chair will look and feel newer and last longer!
Will it Peel or Stain Clothing?
No! Rub 'n Restore does not peel or flake, and it does not backstain like dyes. 
Rub 'n Restore® is a versatile water-based paint designed for vinyl and leather upholstery. Use it to cover stains, correct fading, and make worn furniture look and feel new. Our colors are UV and fade resistant and condition the leather to prolong its life.
"Can I really restore my own leather upholstery?"
YES!
Rub 'n Restore® has helped thousands of people refurbish their furniture and car interiors!
Browse our How-to & FAQ, a free library of articles and videos built upon our decades of professional experience.
Or submit submit an evaluation for a professional assessment and tailored instructions.
All you need is a Saturday afternoon to restore your upholstery!
Our customers are thrilled with 'new' leather furniture they restored themselves.
I finished re-staining the Natuzzi furniture.
It only needed one coat of color! The mixture was two parts mahogany to one part rust to one part cherry wood. I applied it with a rag for one coat. And then applied two coats of the clear with sponge. I would give it five stars! The whole project was fairly simple and was doable in a weekend which included prepping the surfaces with the alcohol, sanding rough spots, prepping with the clear on worn areas, applying the color and then the two clear coats. I feel like I like I have new furniture! - C.S.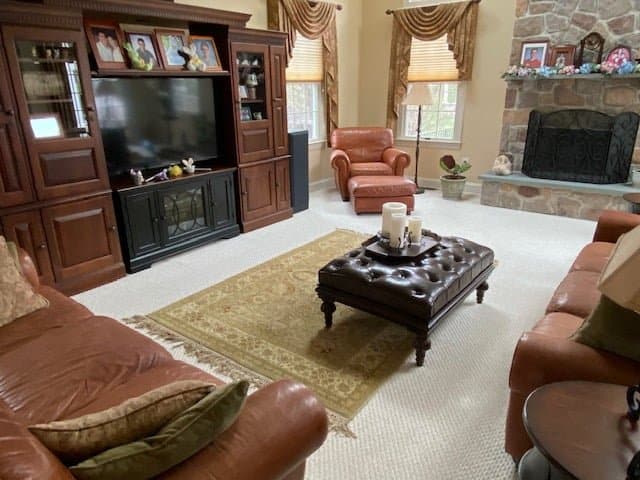 Will this leather paint fix tears, cracks or cat scratches?
How much does it cost to restore leather furniture? 
If you are touching up the color of a leather chair, it can be as little as $25.
You can repair damage and do a color restore from $80.
Basic color restoration cost estimates:
Touch up the color of your furniture: $16 for 2 oz. of color.
Restore your auto interior: $48 for 8 oz. You'll need color matching except Black and Stone colors.
Change the color: $70 for 16 oz. of color.
Match an exact color: $20-$60 fee plus cost of color itself.
Add more luster or make a glaze: 4 oz. of Clear Prep+Finish™ is $14.
Additional leather repair & cleaning costs:
Soft Filler, subpatch kits, and repair supplies: $16-$63 to fix holes or cracking.
Leather cleaner: $8 only for non-absorbent leather and vinyl. Everything should be cleaned with rubbing alcohol.
Shipping is free on all US-destination orders over $45.
Folks outside the USA can use coupon code internationalCLUB for a discount on every 8 oz. or 16 oz. bottle of color purchased.